Planning a baby shower can be so much fun! Celebrating the upcoming arrival of your new baby is a highlight in pregnancy. You get to catch up with loved ones, hear advice, laugh, and bond. All in celebration and anticipation of that growing bump.
Are you a mama-to-be looking for inspiration for your own baby shower? Or maybe you are throwing a baby shower for an expectant loved one? Well, you've come to the right place. I'm so glad you're here!
With this guide, you'll learn all the details for the ultimate shower! And you'll be filled with inspiration to throw a fun and memorable baby shower that will shower that new baby with endless love.
Follow @mommy.labornurse on Instagram to join our community of over 630k for education, tips, and solidarity on all things pregnancy, birth, and postpartum!
Planning your baby shower
What month to have a baby shower? When should a baby shower be held?
There is a wide range of when mamas like to have their showers based on personal preference, scheduling, and personality. But in general, most have their baby showers sometime during the third trimester. More specifically, around 30-32 weeks, which is the end of the 7th month of pregnancy.
This time frame is often used because you are still feeling relatively comfortable, but your bump is really showing, which makes for fun pictures and games. And it gives you enough time to organize and set up the gifts you receive in your nursery. 
Additionally, you will have plenty of time to buy any remaining items you may need that you didn't receive at your shower.
When should I plan my baby shower?
Even though the baby shower most likely won't be held until the 3rd trimester, you definitely want to get a head start on planning it early in the second trimester.
Who is supposed to throw a baby shower?
While some mamas do host their own showers, traditionally someone will throw a baby shower for you. It could be a family member or a close friend. 
If no one offers to throw you a shower, don't be shy about asking a loved one if they'd be on board for hosting it for you.
Even though someone else is officially hosting your shower, the expectant mother is often still very involved in the planning process.
If your host is wanting to be more hands-off, you may be able to do a lot of the decision-making and planning yourself, and instead ask the host to send the invitations and handle RSVPs. You can definitely find a balance with your unique situation!
What do I need to help plan for my baby shower?
Guests, date, and location: If someone else is throwing your baby shower, there are some tasks that you will definitely need to help with. You should help choose a venue and compile a guest list with addresses. At the very least, these are two tasks you'll want to be involved with
Registry: Next, you'll want to make sure you create a complete and organized registry before invitations are sent out. This way, you can put registry information in your invitations
Food/Theme/Décor: From there, you may want to be involved with choosing things like food, theme, decorations, and more
Where should I have my baby shower?
1. Consider your budget
When you are deciding where to have your shower, you may first want to consider your budget. What do you want to spend on the event? Do you have someone helping out or treating for the event? If that is the case, it is important to keep their opinion and price point in mind as well.
2. Think about the time of year and weather
Next, you'll want to think about the weather and time of year. Is an outdoor event possible? Will your outdoor venue be able to make accommodations should it rain? Will your event be accessible in the event of snow?
3. How many people will be attending your baby shower?
You'll need a space that can accommodate everyone that you hope to invite. This is why creating your guest list, having a budget in mind, and choosing a venue are the essential first steps in planning your baby shower. 
One can't really be decided without the others, so it's an important place to start!
Baby shower venue ideas
Mama-to-be's house
A family member or friend's house
Restaurant
Hotel event room
Hotel suite
Outdoor park with pavilion
Church event room
Community center
Do fathers go to the baby shower?
Traditionally, baby showers tend to be girls-only events, but Jack-and-Jill style baby showers are becoming more and more common.
I just attended a super fun baby shower that was an evening event and included men and women as guests. The bottom line is that you should do whatever feels right to you!
Daddy diaper party
Some fathers actually have their own party to celebrate becoming a dad separate from the mom's baby shower. These are often known as Daddy Diaper Parties. All his guests are encouraged to bring a big box of diapers.
Consider having the size of diapers the guests bring be coordinated with the first letter of their first or last name or by some other determining factor. This way, the parents-to-be have a stockpile of diapers in a variety of sizes.
Baby shower party ideas
Baby shower theme ideas
A great place to start with planning for the décor and games for your shower, or the shower you're hosting, is with a theme. You might do something very specific or have a more general boy/girl theme.
Use your nursery theme or colors for the baby shower
One idea I LOVE that my good friend just did, was to use her nursery theme for her baby shower. Her theme is Peter Pan. By doing this, she had beautiful details and decorations at her baby shower which will then be used to decorate the nursery.
Baby shower girl
For a girl's baby shower, it is popular to use pink, white, and gold. You can tie in girly details like florals and tulle.
Some great theme ideas I'm loving for girl baby showers:
Florals/Garden
Shabby chic
Once upon a time
Fairies
Tea party
Mermaids
Alice in Wonderland
Ballerinas
Baby shower boy
Whites, blues, and golds seem to be the most popular for baby boy showers. Here are some theme ideas for celebrating the upcoming arrival of a baby boy:
Nautical
Peter Rabbit
Elephants
Airplanes
Safari
Woodland
Adventure
Bowtie
Gender-neutral baby shower theme ideas
The above lists are meant to inspire theme ideas for you, but remember that ANY theme can be adapted for a girl or boy shower.
Below are some ideas for baby shower themes that feel more gender-neutral:
Teddy bears
Whales
You are my sunshine
Bees
Snowflakes
Underwater/Sea
Rubber ducks
Stars and moon
Use a book or classic theme
Peter Pan
Alice in Wonderland
Winnie the Pooh
Rainbow Fish
Goodnight Moon
The Very Hungry Caterpillar (or any Eric Carle)
Dr. Seuss
Mickey or Minnie Mouse
You might also love the idea of a more open-ended storybook theme. In this case, you could feature a variety of children's books and pull food or décor ideas for the party from those.
Baby shower decorating ideas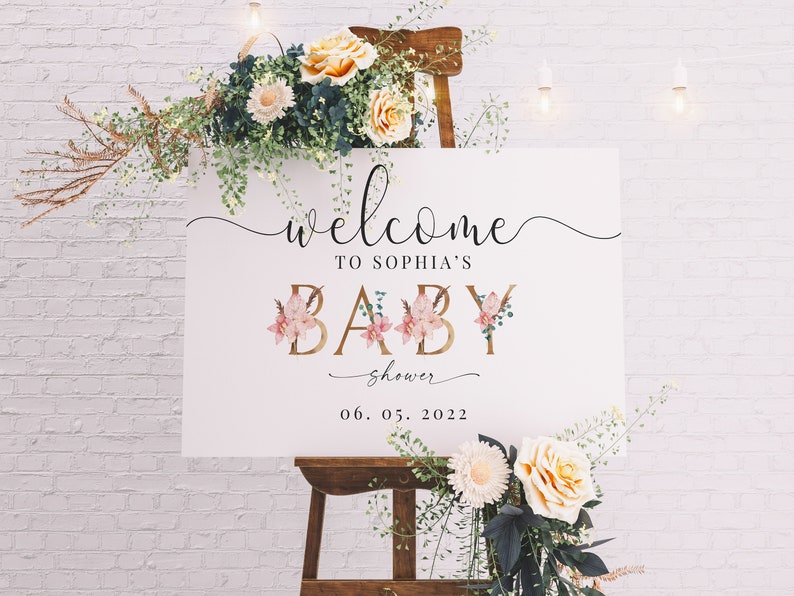 The nursery theme and decorations
When decorating for the shower you want to keep things vibrant and fun. Incorporating the nursery theme in your décor might make you more willing to splurge on fantastic pieces to feature.
Photo boards
I love when showers use tasteful baby pictures and photo boards to help decorate the space. I've been to showers that feature photo boards with baby pictures of the mom and dad-to-be, and it is so cute!
I've also seen photo boards featuring pictures from the mama-to-be's maternity shoot if the timing lines up! Below, you'll read about a game idea that features baby pictures of all your guests, which can also work as decor.
Fresh flowers, balloons, and banners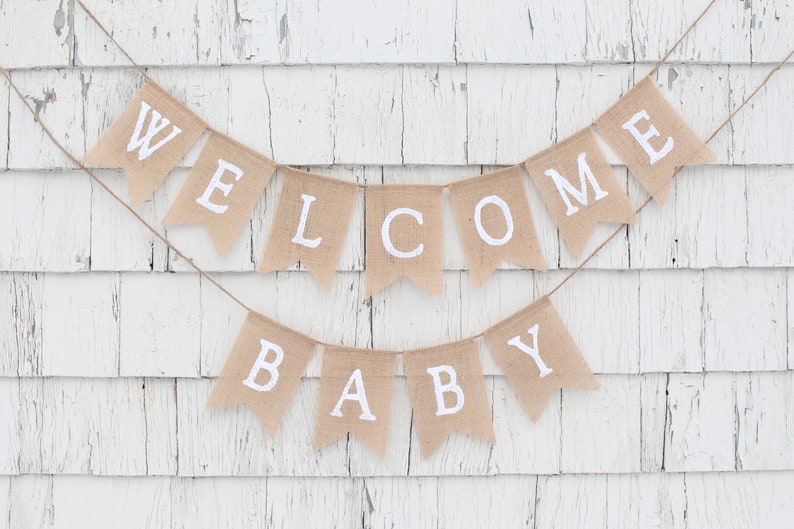 Nothing makes a space feel party ready like beautiful bunches of fresh flowers that match your baby shower's colors. You can also include balloons in corners and on table edges to add height and increase the color theme in the room.
Fun banners welcoming the mama-to-be and guests are also a nice touch. If baby's name has already been announced, the baby's first initial or name can also be incorporated into banners and decorations.
Tablecloths, cutlery, and food
The food you serve and paper products can all work into the décor too! Make sure these details are in step with your overall color scheme or theme. It will really help tie everything together.
Think pink lemonade for a girly shower. Colorful or themed fruit plates can add to the whimsy too.
Baby shower guest book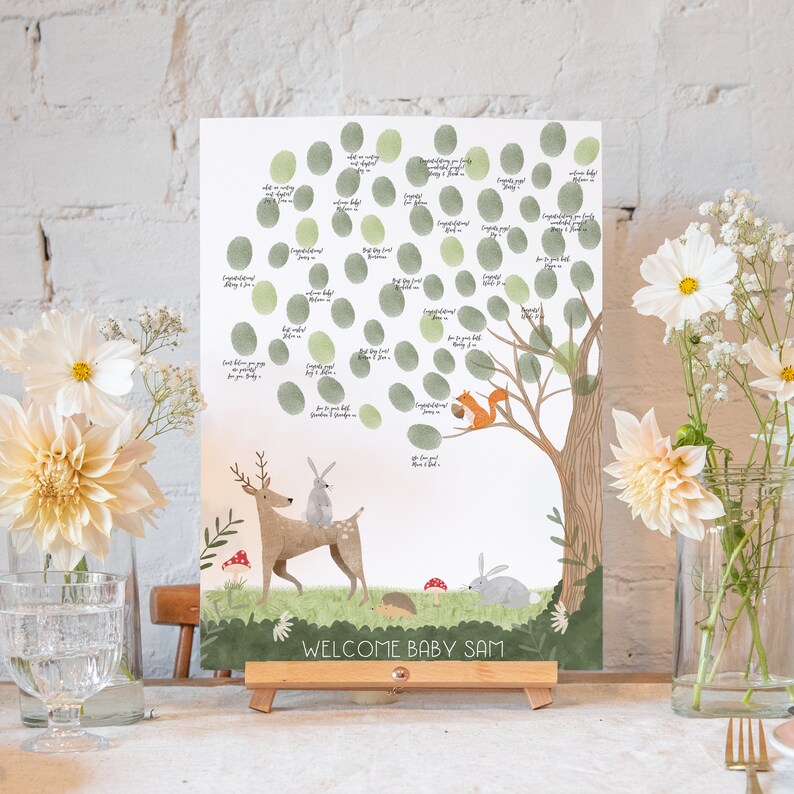 A guest book is something that you may forget but can be a really great addition to your baby shower.
Consider a creative guest book alternative (like the one pictured above!) that will be a keepsake for baby's nursery!
What food should I serve at a baby shower?
This will depend largely on the time of day you decide for your shower. Brunch, lunch, or early afternoon events seem to be popular. You'll want to decide if it will be a sit-down event or a more casual event with food available to graze.
Tea sandwiches, fruit, and cold salads are a nice go-to for any lunch or afternoon event. For a brunch, mini quiches are perfect. You could have a pancake or French toast bar at brunch as well.
Label your food with cute name cards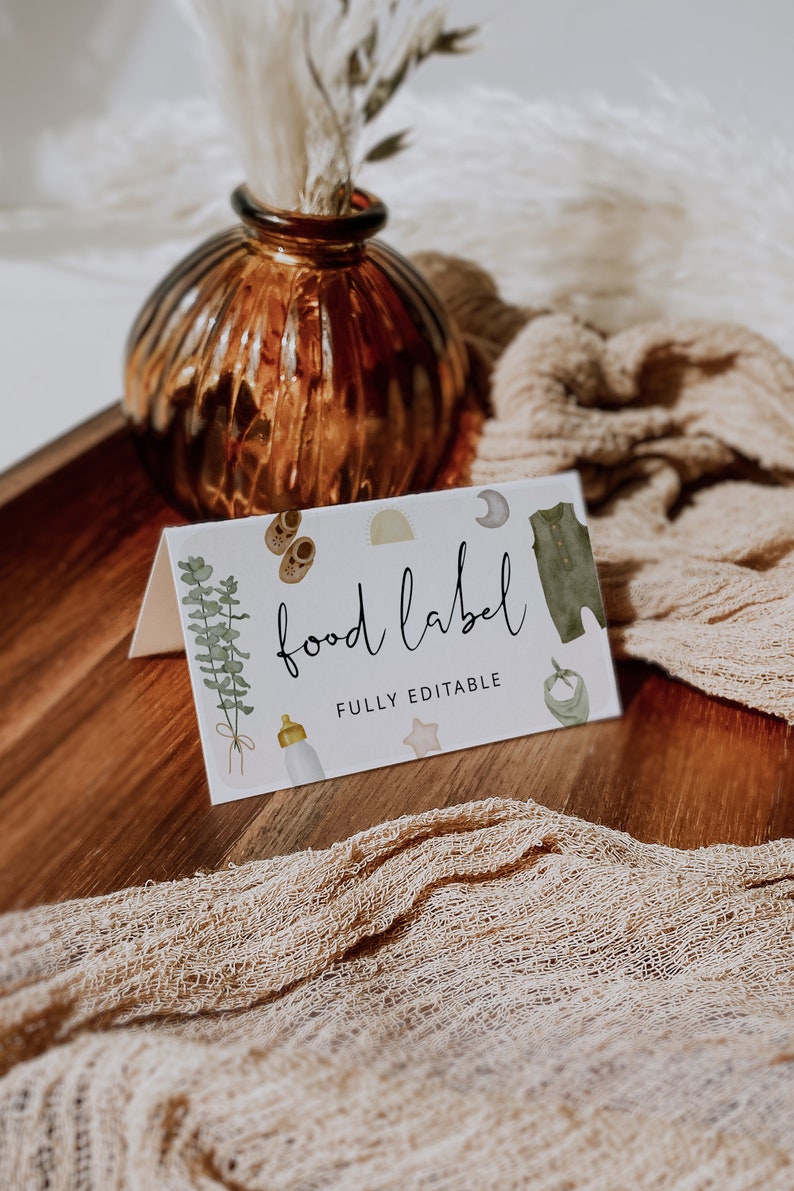 Putting the name of each dish and any dietary details on the card is a thoughtful and useful detail for guests to know exactly what they're eating.
Fun and pretty drink station
Having a fun drink station with mimosas, flavored lemonade, or tea is a nice touch. You can have fresh fruit for people to add to their mimosas or to flavor their lemonade or water. 
A large, clear drink dispenser is a super pretty detail to add to any baby shower.
Baby shower game ideas
Alright! I know a lot of people are looking for baby shower game ideas that your guests will actually like playing. Here I've gathered up the best ideas for large parties, coed baby shower games, games for small gatherings, and more!
Where possible, I also linked off to printable baby shower games – Etsy is a treasure trove for this. I hope you find some fun inspiration for your party!
1. Guess mama's belly size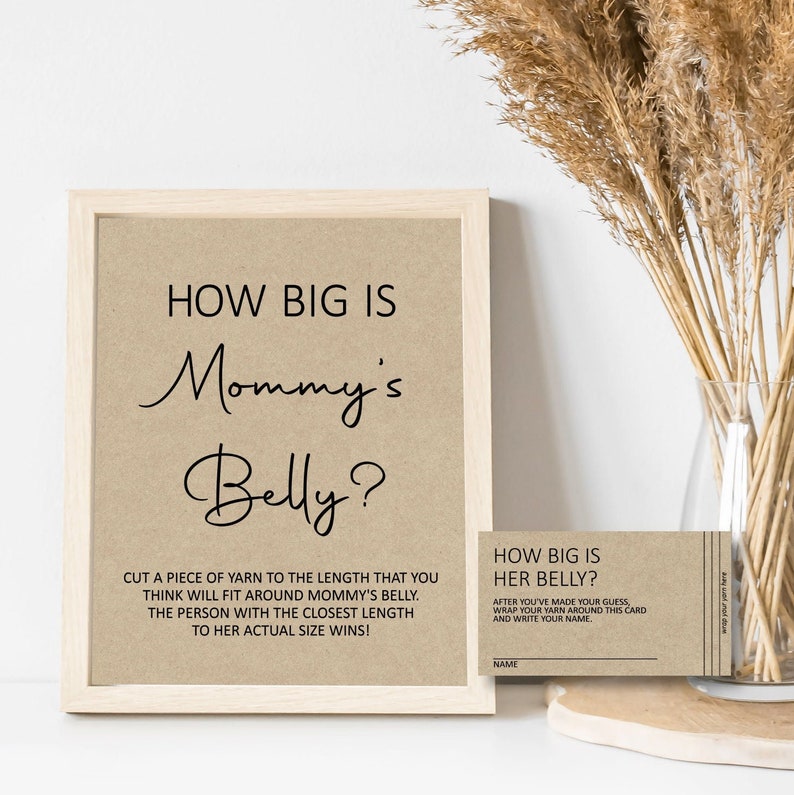 Before the event, the host will have mom measure her belly size. Have a station near the guest book where guests can cut a piece of yarn that will fit around her belly. Whoever is the closest wins!
2. Who's that baby?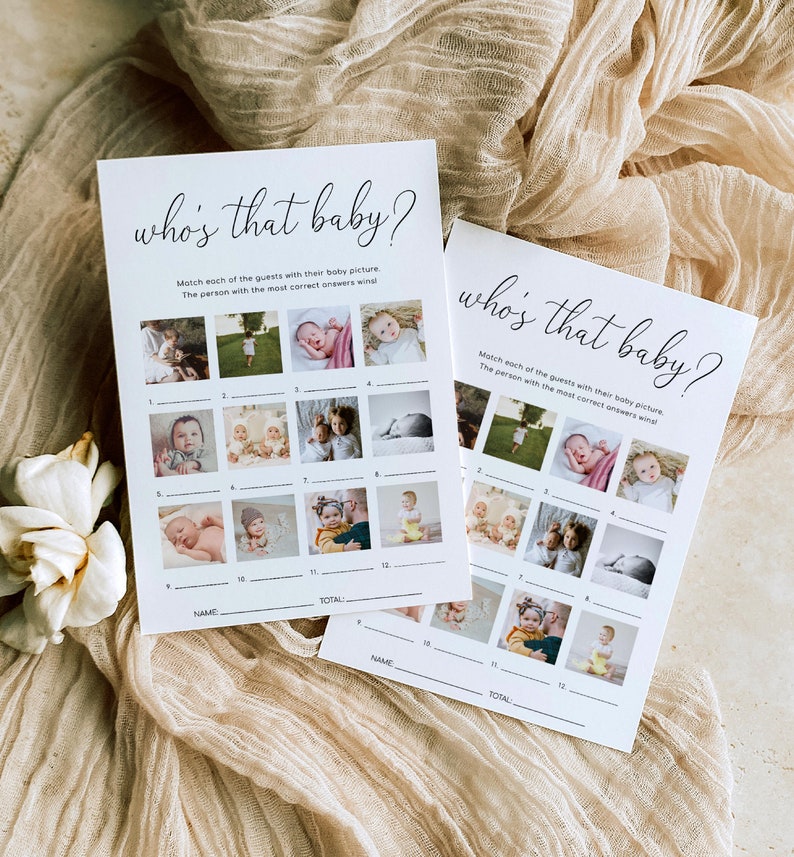 Before the shower, the host should ask guests to email a baby picture. Create a board of guests' baby pictures that are numbered.
Have a worksheet for each guest where they guess who each is. This is a fun game that is sure to spark conversation and laughs!
3. Blindfolded diaper changing
Create a diaper changing station with baby dolls or stuffed animals and blindfolds. Time people as they change diapers or see how accurately they are blindfolded.
This can be an especially fun coed baby shower game!
4. Who did it? Mom or Dad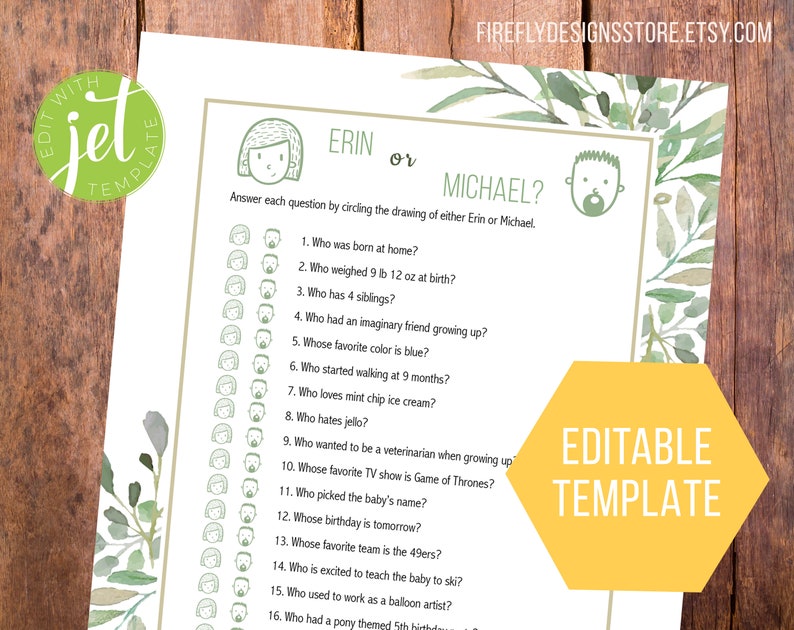 Have Mom and Dad make a list of things that they have accomplished or done in their lives. Consider making it a list of things from their childhood (met someone famous, broke 5 bones, moved 4 times, etc.)
Have the list on a worksheet for guests to guess who it was. The winner receives a small favor or prize!
5. Notes of advice
Have pieces of paper for guests to write advice or encouragement on. Seal them in a pretty, decorated mason jar for mom to go to during tough moments with her newborn.
6. Late night diapers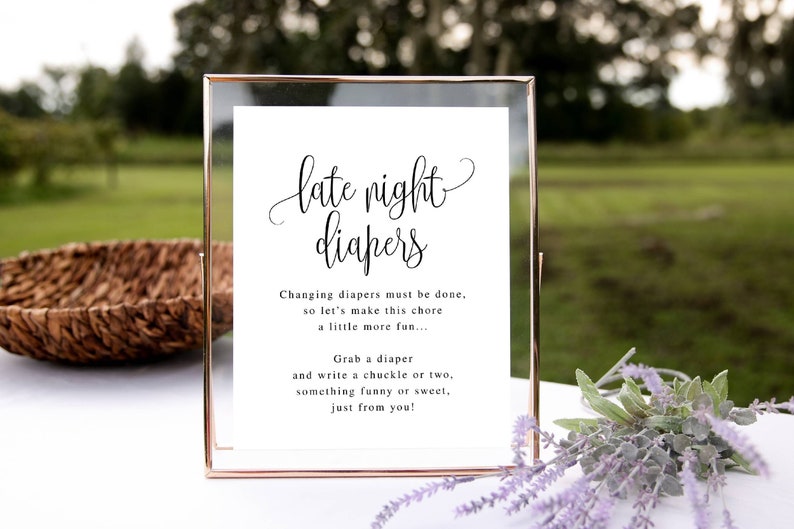 Similar to the above activity, have a basket or display of size one diapers and sharpies. Ask guests to write a note on a diaper that can be used as encouragement or laughs during late night diaper changes.
7. Guess the Due Date and Birth Details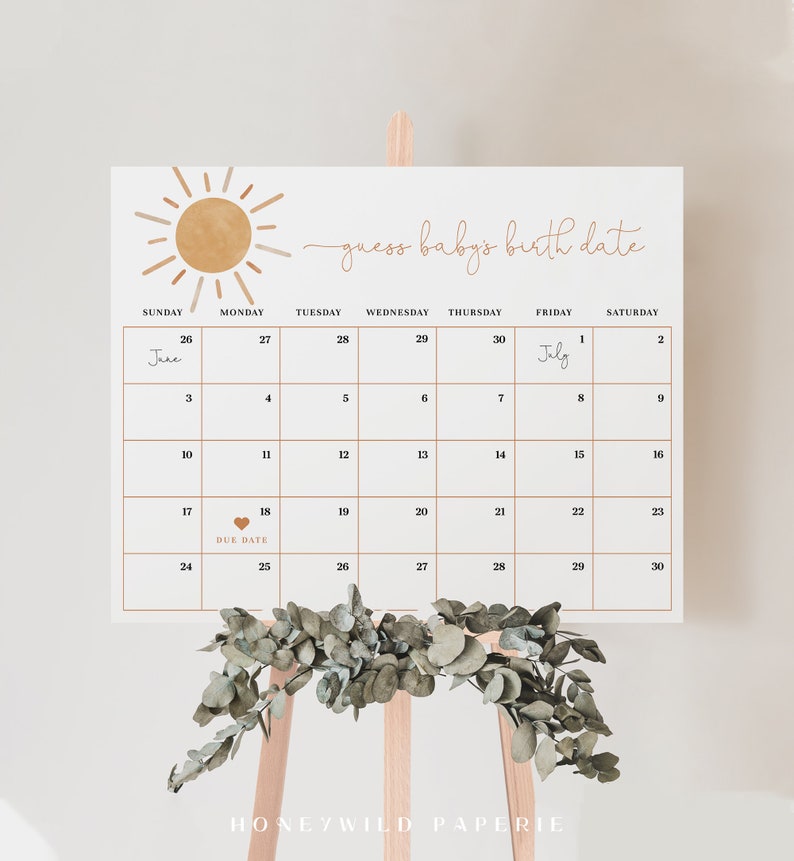 Create slips of paper or cards for guests to record guesses.
7. Create a time capsule
Have guests write short notes or letters to baby and seal them in a mason jar for baby to open in a certain amount of years.
8. "Don't Say Baby"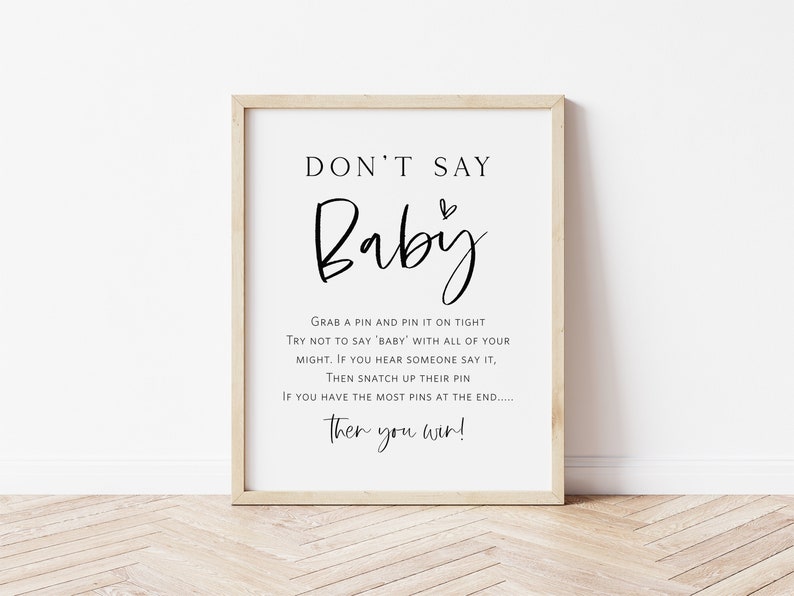 Guests start with three clothes pins attached to their shirt. If you catch someone saying baby, you take their clothes pins and put them on yourself.
At the end of the shower, the person with the most wins!
9. Guess the baby food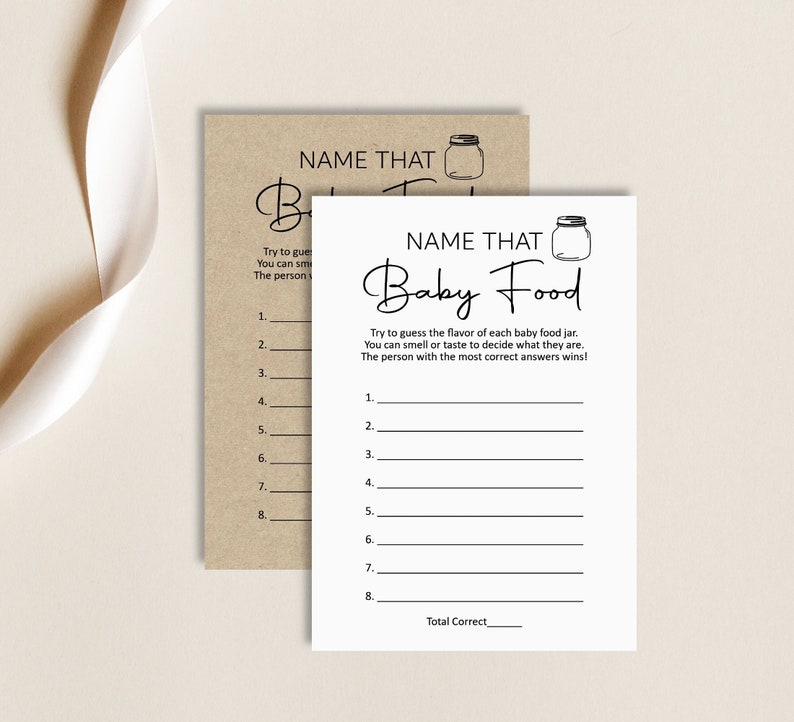 Remove the labels from different jars of baby food and assign each jar a number. Blindfold the guests and have them taste each spoonful of baby food, guessing the flavor.
The guest with the most correct guesses takes home the coveted title of "Baby Food Connoisseur" and a tasty prize.
10. Play The Price is Right
Display an assortment of baby products and have each guest guess the retail price of each item. The guest with the closest guess for all the products combined wins a delightful prize. This game is a fun way to showcase your shopping skills and provide some practical knowledge to the guests.
11. Baby shower charades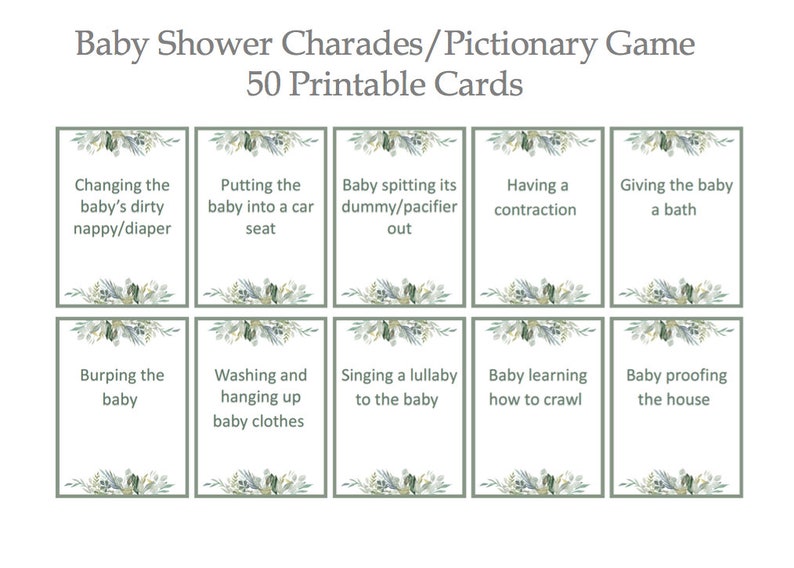 Get ready for some laugh-out-loud moments with this classic game of charades, tailored to all things baby. Write down various baby-related actions or items on individual slips of paper.
Guests take turns selecting a slip and silently acting out the word or phrase while their team tries to guess. The team with the most correct guesses wins the game and a prize.
Don't forget these details
Before the baby shower, there are a few other key details you don't want to forget:
Party favors and game prizes
Have someone take lots of pictures
Create a comfy and pretty 'throne' for gift opening if you are planning to open gifts
Have someone ready to record gifts if you are opening them so that you can send thank you notes
Plan where gifts should be placed
A seating or table chart for a more formal event
Make sure your registry is all set!
With this guide, you'll know that your baby shower will be absolutely perfect. Here are some more resources to help you out with your baby registry in preparation for your shower!