Looking for Father's Day gifts for expecting Dads? Father's Day is right around the corner! I have to admit, I'm SUCH a slacker when it comes to a Father's Day gift for my husband.
I've always said, I'm really glad Mother's Day comes FIRST…because my husband always knocks it out of the park with a super awesome gift, and it kicks my butt into gear to do some research for HIS gift!
Anyway, there are a TON of cute gifts out there for expectant dads! *Hopefully* he got you something awesome for Mother's Day, so he deserves something just as awesome in return!
For this list, we broke down the gift ideas into categories for you including:
Watches
Subscription boxes
Books
Dad-life gifts
Miscellaneous
Either jump to the category you think will fit your loved ones' love language using the table of contents below or browse the whole list and see what catches your eye!
Follow @mommy.labornurse on Instagram to join our community of over 610k for education, tips, and solidarity on all things pregnancy, birth, and postpartum!
Father's Day gifts for expecting dads
Watches for the expecting dad
1. A designer Nordgreen watch
Make Dad feel special and gift him one of these beautiful yet simplistic watches! I got my husband this for father's day and it was a huge hit. I think every guy loves a nice watch.
I also love the idea of taking this to a jeweler to have it engraved with your baby's birthday or kids' initials. Something to make it extra special and personalized.
2. Multi-Function Sports Watch
If your partner is a little more outdoorsy, into gadgets, or the adventure-type, this Multi-Function Sports Watch might be the way to go because it's water-resistant and has a bunch of other cool features.
3. Soon-to-Be-Dad Watch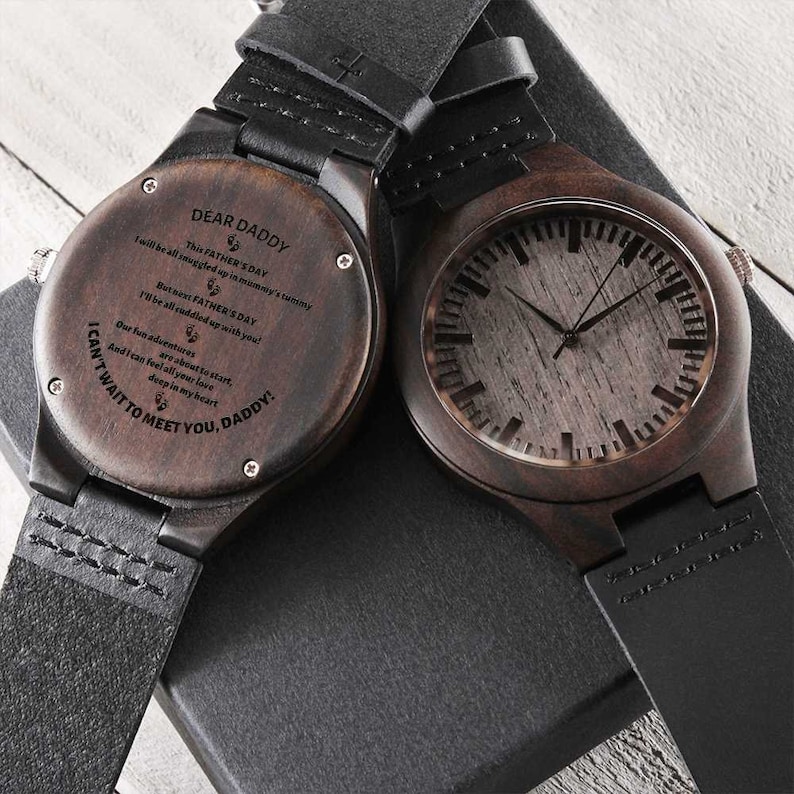 This engraved watch for the dad-to-be is a beautiful option for a Father's Day gift! The message is so sweet, and the handmade wooden watch face and leather band are very high quality.
Subscription boxes for Father's Day
1. Bump Boxes: Dad-to-be Box
Bump Boxes are not just for mamas you know! This well-known brand has a box JUST for dads. This is the perfect Father's Day gift to make an expectant dad feel special.
Check out the Dad-to-Be Bump Box now!
2. Bean Box
Coffee and parenting newborns go together like peas and carrots. For the coffee-lover dad, or really any dad-to-be, this is an awesome gift option. It's a subscription plan that sends you coffee beans every week, two weeks, or every month depending on what you choose.
You also get to choose if you want whole bean or freshly ground, and your "ideal tasting experience".
Check out the Bean Box Coffee Subscription Gifts now!
3. Meatworks Box
Meatworks is another well-reviewed and very cool subscription box gift option! They describe themselves as a custom butchery and offer a variety of different boxes and price levels. You can opt to order a one-time box or subscribe and save.
All of their red meat is USDA Prime Beef which is in the top 3% of beef produced in all of North America. And they offer is at a price that's up to 25% lower than your local butcher!
So if you've got a dad in your life that loves to grill, cook, or just loves a good cut of steak, check out Meatworks now!
4. Dollar Shave Club
Dollar Shave Club was one of the first really successful subscription boxes to hit the market, and it hasn't lost any traction or popularity since! If the expectant dad in your life shaves regularly – this is a must for him!
Check out Dollar Shave Club now!
5. Expectant Daddy Gift Box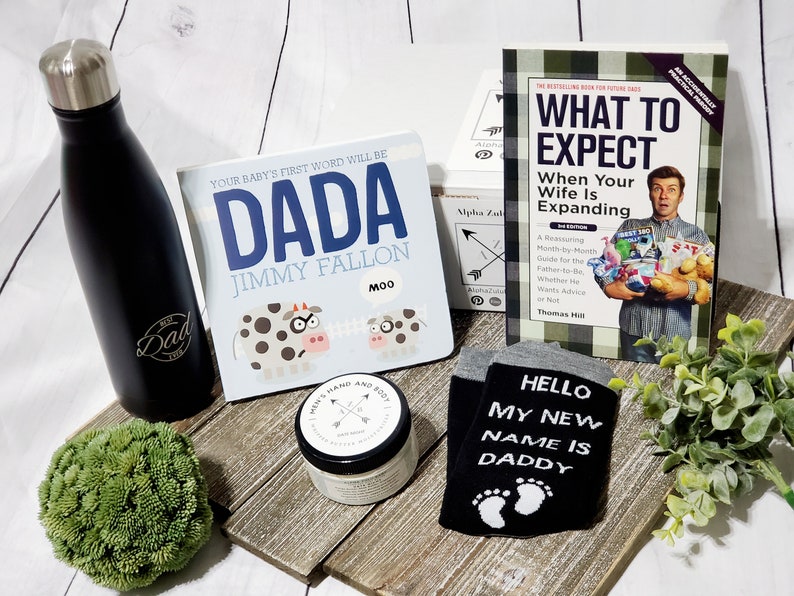 This is a really cute Expectant Daddy Gift Box curated by a seller on Etsy! With 187 5-star reviews, it's safe to say this will be a hit!
Online birth class JUST for dads and partners
1. Supporting Her: Childbirth Class for the Other Half
Supporting Her is the ONLY online birth class that's just for dads and partners!
It's a 2-hour, on-demand, online course that the dad-to-be can complete at his own pace and get completely prepared and confident for the delivery room.
Dad-themed books
This book is a 40-week guide to help dudes become dads. Created by popular Instagram and YouTube creator Taylor Calmus @dudedad – you know it's bound to be equal parts hilarious and insightful!
In their words: "The perfect Father's Day gift for new dads and expecting fathers! A punderful resource of the funniest dad jokes that every dad needs in their arsenal!"
I mean, need I say more? Amazon means it's great for last-minute, too!
I didn't know about this company until recently – but OMG they make the cutest personalized books that feature your kiddos and their dad as the characters – how fun is that!?
The image above is for a book from baby to mom and dad – so perfect for a first time dad-to-be! If this will be your 2nd+ baby, they've got a huge variety of other stories to browse and personalize.
Check it out now! Use Code: 10DAD for 10% off all personalized Father's Day bestsellers.
4. Other Dad-Themed Books
Dad's Playbook : Wisdom for Fathers from the Greatest Coaches of All Time….This is a really cute book for any sport-loving dad out there.
It's a collection of motivational quotes by various old-time coaches and athletes, collected on the theory that coaches and Fathers aim to exhibit like traits.
They motivate, mentor, discipline, love….sounds just like a DAD! It's a very inexpensive buy from Amazon too, if you're looking for a small gift!
The Expectant Father: The Ultimate Guide for Dads-To-Be: Every Dad deserves to be informed and educated on what's to come. I found that this book was the most realistic of the "dad pregnancy books" out there in terms of being helpful, and having a little humor mixed in! Also, a very cheap buy from Amazon.
We're Pregnant! The First Time Dad's Pregnancy Handbook is another fun, cheap, and well-reviewed book for the dad-to-be in our life!
5. Dad-Themed Children's Books
My Dad is Amazing is an adorable board book that the dad-to-be will love to read with your little one when they arrive!
My Dad Loves Me is the perfect board book for dad and baby!
Your Baby's First Word Will Be Dada – This hilarious book by Jimmy Fallon is a must for every dad-to-be this Father's Day!
Okay we're big Eric Carle fans around here – so when I spotted the book, I Heart Dad, I knew I had to include it here!
And then I can't help but include these hilarious books! Perfect for the dad with a sense of humor – Rules for My Unborn Son or Rules for My Newborn Daughter.
Dad life gifts for the dad-to-be this Father's Day
1. Dad Shirt
Amazon has so many dad shirts to choose from! I chose a picture of a classic one, but if your guy has a sense of humor there are lots of hilarious and pun-ny shirts available too!
2. Diaper Bag
A backpack-style diaper bag is a great dad-friendly option and it keeps your hands-free to care for baby!
This is described as a "Tactical Diaper Bag", which might be even more well-received by the dad in your life depending on his personality and style.
3. Baby Carrier
I know that I loved using a soft, wrap-style carrier (love my Solly!), but my husband much preferred a structured-style carrier. It's actually one piece of baby gear he was pretty excited about!
We love the Ergo 360, but I've heard good things about Baby Bjorn, too!
4. Daddy's hospital survival Bag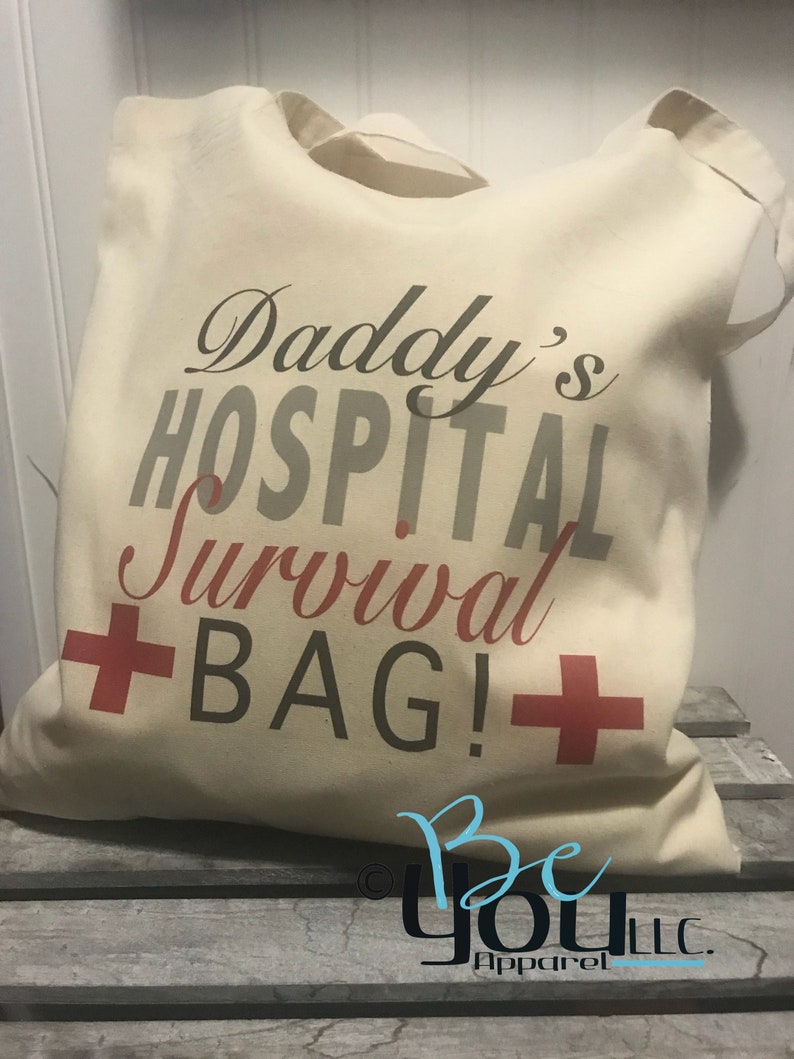 This is a simple, customized tote available on Etsy. It's well-reviewed and you could totally pack it up with partner hospital bag must-haves for an awesome gift!
Grab our totally FREE Hospital Bag Checklist here!
5. Dad Life Hat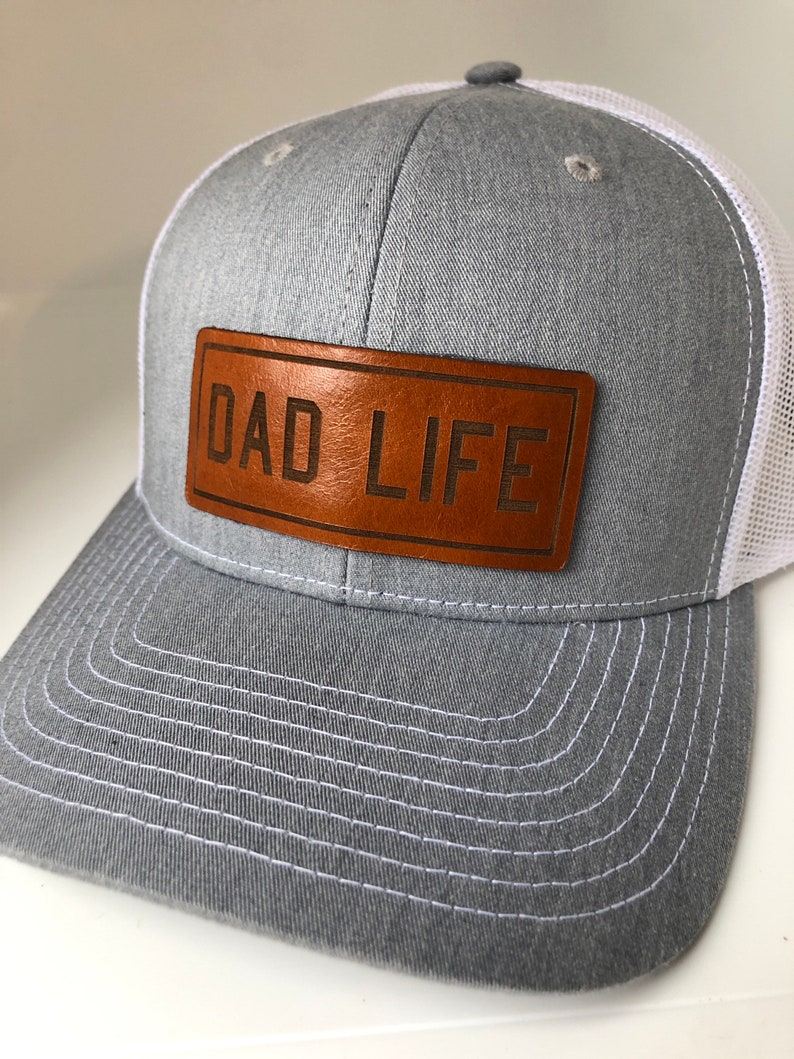 No words needed, am I right?! Love the on-trend look of this hat and hopefully the dad-to-be will too.
6. Expecting Dad Mug
Coffee, anyone? Dad's going to be drinking a lot more coffee once baby makes their appearance. Why not drink from a super awesome mug?
There are a ton of clever ones to choose from if you want to go the humor route. Or you can get something classic or high-quality! There are a lot of ways to play this one!
Here are some of my top picks:
7. Sonogram Key Chain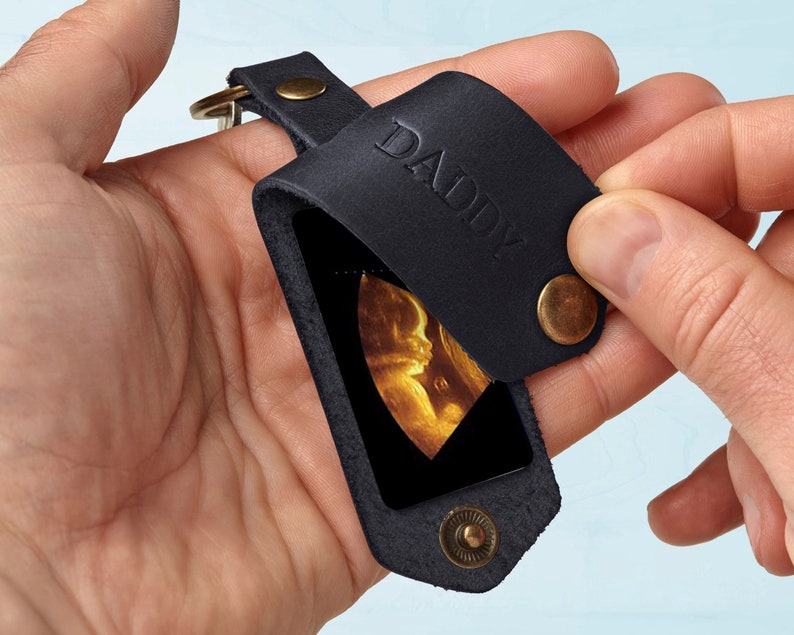 This beautiful leather keychain with a photo inside is SUCH a sweet gift for the dad-to-be. You can send the Etsy seller any photo you'd like for the inside and choose what's written on the outside too.
Gifts for the dad-to-be that loves to cook
Is the expecting dad in your life a grill master or king in the kitchen? There are so many awesome gift ideas for the dad that loves to cook! Here are a few of my top picks:
I know this is a splurge, but a good knife makes cooking so much more enjoyable for a chef!
What will you choose for your first Father's Day gift?
That concludes the list! What did you get your baby daddy for his first Father's Day? We'd love to hear more ideas in the comments!
And in the meantime – why don't you grab yourself a free little gift if you're the one shopping, expecting mama! Our FREE birth plan has been downloaded by thousands of mamas and put to use to help them feel more confident before birth!